PIXEL TO VECTOR CONVERSION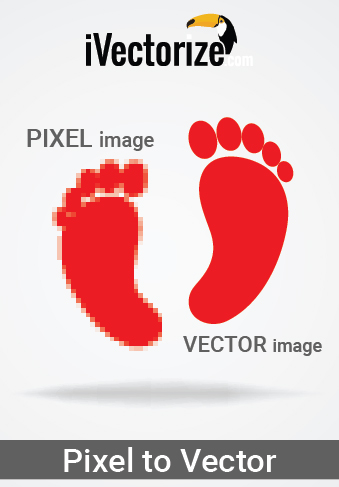 Professional image tracing is the type of graphic design service that we provide at iVectorize.com. It gives new life to visual content, the images become crisper and fully scalable. We stay away from auto tracing tools and perform manual raster to vector conversion to ensure effective and quality results. We never use auto converting of JPEG and PNG logos, scans, illustrations, drawings, maps, because auto-tracing never renders the type of quality you are looking for.
Why Vector?
Raster photos compose of pixels aka dots of colors. This means when images come in high resolution they contain bigger amount of pixel dots, which produce better graphic quality for bitmap pictures. However, data of pixelated images has limits though they may contain hundreds of millions of colorful squares. With time vector images entered digital design market. They rapidly took firm grounds not only for their ability to scale up without losing quality, but also for their unique style. In addition, vector images can be edited faster and easier because of their separate elements. Vectorized pictures brought new quality to print industry as well, as they could then produce higher definition printing results because of their rich and flexible color functionality and editability. Nowadays, traced images are widely used in vinyl cutting, laser, wood engraving, etching, digitizing, screen printing, etc. There are many files types but the following are frequently used AI, EPS, PDF, SVG, CDR.
You may ask here what about rasterized images also knows as bitmaps, why aren't they suitable for example for laser marking. First of all, as it has been already said, the size of raster logos and illustrations often come in low resolution, meaning that they are often blurry and poor in maintaining their sharpness when enlarged. This means that pixelated images lose their quality and value, therefore, look unprofessional. When creating artworks, it is always preferable to have them in vector format. If your logo is bitmap and you want to engrave it on steel or wood or other hard surface objects, then you will be asked to provide the vectorized version. This whole process is called raster to vector conversion.
Why to Use Specialized Vector Services?
The fact is not all graphic designers, even very good ones, possess appropriate vectorization skills and techniques. It seems that vectorizing is part of general design, in reality it can be painful and furstrating as if you have never worked in graphic industry. If you need to vectorize your logos skillsfully preserving details always choose those converters who have been practicing image tracing for at lease a few years as they are the ones who will make sure that you have well crafted product for your project or business. For those who struggle in handling tracing of their JPG and PNG files to new file format, can easily solve the issue though using available online professional services. Our image to vector platform is specifically designed for those purposes where companies or individual can get their job done with reliable and desirable outcome. Our team is 24/7 available to provide necessary assistance for quality improving of pixel photos by turning them to fully scalable and sophisticated vectors. It almost requires no effort to reach out to our expertise. We have created a easy-to-use Quote Request form which allows our customers to submit images for vectorization within seconds. Our expert designers are armed with up-to-date tracing techniques and ready to serve needs of the clients. As mentioned above our vector image converter is our experienced designers who have also worked in the printing business for a long while. We use latest Adobe Illustrator and CorelDraw versions and arm our team with innovative knowledge which caters the needs of our toughest customers.
To ensure you in our skillfulness and ability to handle pixel to vector conversion please visit our portfolio and also read our blog on the reasons why to work with our express service.