Image Conversion: JPG to Vector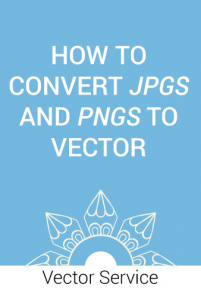 Anyone who has ever used a computer in one way or another has come across with JPG images. Those are considered lossy type of digital pictures that keep losing their quality after each consecutive Save command. Loss in quality might not be significant for the eye, however when the function repeats, each time some pixel data gets lost wearing out pictures' sharpness.
JPG has been created by the Joint Photographic Experts Group Committee. It is widely used in digital photography, mostly 2 dimensional graphic design, websites. Many professional and nonprofessional cameras allow to capture photos in JPG format rather than in RAW. This enables users to save storage and take more images. Often cameras default function suggest RAW image file format, which tend to produce larger sizes. Therefore, this file format takes more space on memory card for each photograph. Raw files do not have color-processed information and need extra work with some bitmap graphic editors for example Adobe Photoshop or Affinity Photo. After some editing photos can be sent for print in JPG file format. Shortly, the difference between JPG and Raw lies in the proceeded information.
Though JPGS are widely convenient for everyday use, they have their own limitation. On screen JPGs can look just perfect unless you export them for printing and particularly for large format printing. You'll feel considerablе decline in quality by turning blurry / pixelated. As an alternatrive to this type of drawbacks another file format has been introduced called vector graphics. Vectors don't lose their quality, either when you scale them up, or you apply modifications and resave them. These file formats always preserve their sharpness and crispiness. This makes them unique in a sense that they not only digitally preserve their quality but also help to produce diverse high quality printing results, for example when printing on mugs, pens, huge billboards, t-shirts, window signs, signage, etc.
Vector graphic files are used daily in screen printing for clothing, sign making, embroidery, general graphic design, flash animations, etc.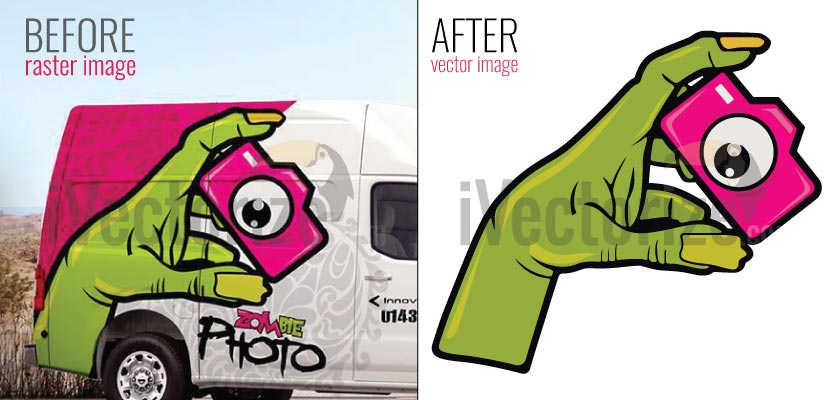 Thus, you see that vector images are more suitable for commercial or professional use as they can scale up and down without decreasing the quality. Meanwhile, JPG is very convenient for digital purposes; website, blogs, Facebook, Twitter, etc. However, even here, if your raster image has small size and you want to make it larger to fit the whole width of the page it will most probaly wear out its quality. Worth noting it's fast and easy to convert a vector image to JPG with a few clicks of the mouse, basically exporting a vector file as a JPG or PNG, but it is not that easy to perform that same conversion of JPG (raster or bitmap image) to vector. And this is where our professional online image to vector conversion service iVectorize.com comes handy. If you have faded, distorted images which you need to print in publications by maintaining the sharpness and details or if you want to enlarge your artworks for large scale banner printing, you will not be able to do it perfectly with JPGs. Instead, you will have to turn your pixel images to vector. The following are the main vector file extensions: EPS, AI, CRD, PDF, AFdesign.
When you transform JPG into vector you do get high resolution image, but there should be taken into consideration two facts. First, vector tools cannot recreate textures of a digital photo 1 in 1, the way they do with logos, cartoon pictures, cartoonized photos. Even very skillful graphic designers with decades of experience behind their shoulders struggle to obtain similar looks for photo textures. This does't mean that the end results look bad, on the contrary, vector texture has its uniqueness and beauty, still it is not similar. Nevertheless, when your image is vectorized you definitely get better quality product and you can effortlessly scale or edit your artwork. Second, when performing vectorization of jpg it's important to avoid automatic tracing. Automatic machine vectorizing performs very poorly while tracing images and creates many uneven curves and color distortions, especially if your image includes text. Therefore, for professionally results it'd be better use manual tracing aka vectorizing which you can get at our vector service. At our online service you can revamp your old, worn out pixelated images within 24-48 hours.
Our highly experienced vector artists will redesign your jpgs to vector using manual vectorization techniques providing accuracy and high quality. We usually perform vectorizing within 24 hours, however, depending on the time of the year and the number of submitted images for conversion we might request more time. If you have an emergency situation, we will proceed with your order with no extra charge and send back the vector file at the earliest opportunity. Please always mention in your instructions the emergency factor. Feel free to submit apart from jpeg also png, psd, tiff, pdf, doc. On our homepage you can read in detail how our service works. In case of inquiries please visit our Contact Us form or directly send your question to our email [email protected].
At iVectorize.com you will receive smooth JPG to vector conversion experience. If you have no idea about vectorization and you need support in figuring out what you actually need, our support team is there for you. You can start Requesting a Quote by mentioning your expectation and we will get back to you with the image estimate shortly after receiving your submission. And thank you for considering to work with us, we are here for you.
Here you can read more articles about our service and different topics on vector graphics and image conversion.