5 REASONS TO CHOOSE IVECTORIZE VECTOR SERVICE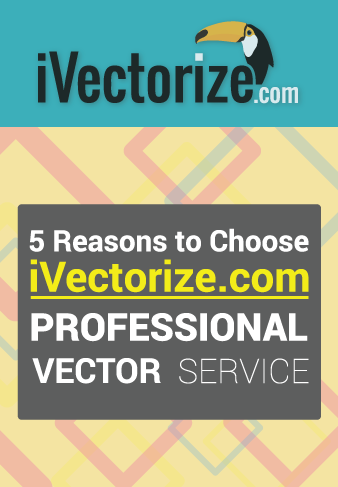 In today's world of visualization and fast-changing trends, more than ever we need to have reliable services to help us through our projects and life goals. You must have had moments when you needed to vectorize images for your project, however you didn't know which vector service to choose that would cater your needs and provide you necessary assistance with graphic design in a short period of time. Knowing that there are many people like you, we have decided to share our story on how we decided to start our professional vector service and five reasons why to choose iVectorize when you need to create visuals for high-quality printing or digital use.
The foremost incentive for establishing our online vectorization service was that we had worked for many years in the field and noticed how often hundreds and thousands of customers were overcharged based on their lack of knowledge of graphic design or vectorization. We wanted to create a platform where no matter how much you know about vector or graphic design you are treated fairly and pay for the actual amount of work. Fairness and equity are our core values.

The next reason why you should choose our service is that we provide you access to top-notch designers who have been specializing in vector conversion for many years. And you do not need to leave your home or workplace to get hold of them. All you need is to visit our website and send us your images.

The 3rd reason is our top quality customer service. We are always happy to have you around and assist you with anything we can do to get your job done. For example, once your image is vectorized and you want to apply some slight changes or receive another file format we do not charge you for that. We do this because at iVectorize.com we believe such unnecessary prerequisites make the business less fascinating. We value our customers and finding the best possible vectorization solutions is our goal.

The 4th is that we have created our website having in mind you and your ultimate experience. That is to say, we have done our best to create a simple and minimalistic Request a Quote form that will keep you a few clicks away from starting vectorization of your artwork. And we constantly develop our service through modifications of the usability of the website.

The 5th and equally powerful reason is that we are always here for you no matter what the weather forecast is! We will assist you with the best possible solutions for vectorizing your artworks and support you and your business. Your satisfaction with the final results is our number one goal.
For more information on how we operate please visit our home page or send us an email to [email protected]. We are open to new suggestions and critical feedback on our service.And don't also check our portfolio which talks better than words.